July 7, 2014

Adams Upholstery of Iowa City is a one-man auto and commercial upholstery shop. This blog is written by the one man - Jim Nishida-Adams.



August 2, 2014

I've been thinking about starting a blog for quite sometime. Since I know there's no way I can keep up with bookkeeping, estimates, ordering, talking to customers, marketing AND the actual upholstery work that keeps the bills paid, I figure why not?

Rather than just a diary of what I do every day (I woke up at 6:00, brushed my teeth, combed my hair, etc), I think that a blog describing what happens in an auto and commercial upholstery shop can help describe the scope of services that we offer. In addition, it will allow me to polish my writing skills (my major in school) that I have ignored for so long.

Let me know if there's anything you'd like to hear about. Thanks!



August 12, 2014

So, I bill the business as an auto and commercial upholstery shop, but what exactly does that mean? Well, the truth is I work mostly on automotive interiors with a little commercial work tossed in. In the last two weeks I've worked on the seats in a 2008 Audi A4, a 1985 Toyota Supra, a 2004 BMW 330ci, a 2006 Dodge RAM truck, a 2006 Chevy Suburban, a 2001 Ford Van, a 2005 Volvo XC70, a 2009 Dodge RAM, the headliner in a 1995 Chevy Camaro, chrome bar stools for a downtown restaurant, a biiiiiiig canvas boat cover, and the seats out of a special chair in a doctor's office. Oh, and some padded pieces from a fitness center.

I work on just about anything that's covered in some sort of fabric - with the exception of traditional, wood-framed furniture. Yes, much of the commercial upholstery I do involves wood frames, so what's the difference? Well, think about in terms of your typical household furniture - couches, chairs, recliners, etc. These may all seem the same because they are all covered with fabric. It's what's under the fabric that makes them different.

Traditional household furniture is different from auto and commercial upholstery because the foundation of the seats are different. Just about every seat involves four basic elements:


* A frame
* Some kind of springs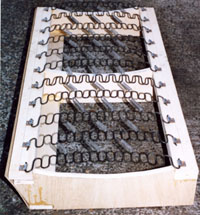 * Cushioning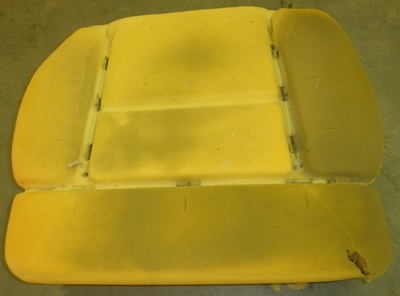 * A cover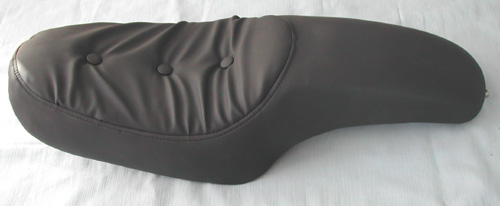 Traditional furniture differs mostly in the areas of the frames and the springs. Most chairs and couches have wood frames, and many use what's called webbing either along with or in addition to springs. And they use a greater variety of each. There are several different kinds of webbing and several different kinds of springs. Although it may sound simple, having those basic differences requires a separate line of supplies, tools, techniques and even fabrics.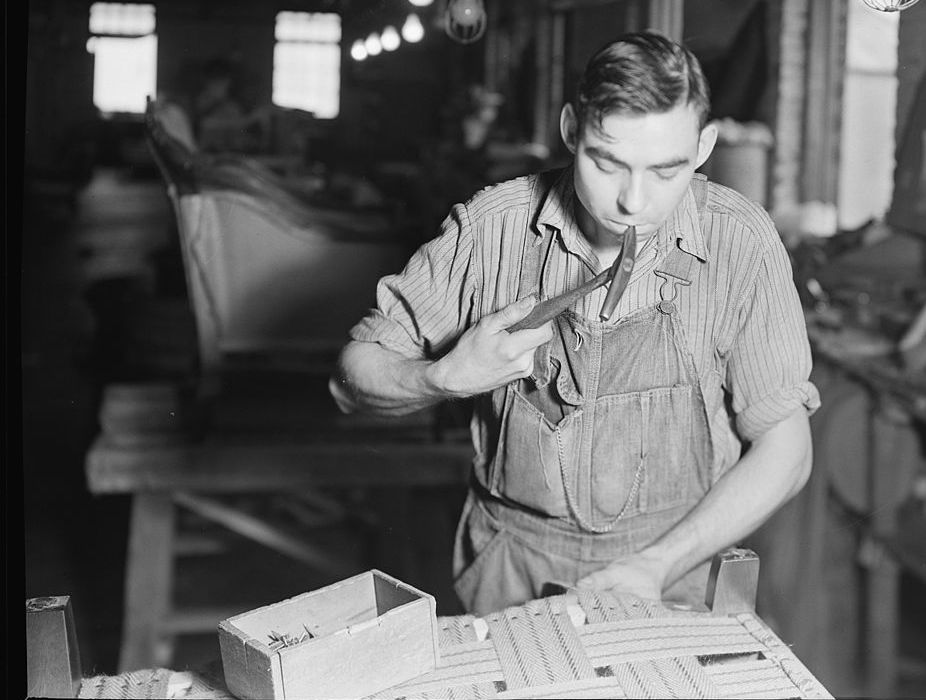 Another reason why I chose auto over furniture is that there seem to be more furniture upholsterers out there than auto upholsters, so I went where there was greater demand.

So there's an introduction to the difference between auto and furniture upholstery!


September 3, 2014

Hard to believe September is already here. Summer is just about over. I'm starting to get calls for seat heaters. Yes - I do install seat heaters. You can have new ones put in or replace ones that have failed. They are kind of nice in these cold Iowa winters, and loosen up your back muscles too. Just don't get so warm and comfortable that you fall asleep behind the wheel!


November 3, 2014

The Toyota Supra Seat

There does not appear to be a lot of interaction between auto manufacturers and the after-market service industry. In my 32 years as an auto upholsterer, I have only met one guy who worked with interiors for a car manufacturer. One reason for this (like so many other aspects of vehicles) is that so many interior parts are designed by the auto maker and produced by some other company then installed on the production line. Lear Corporation is probably the biggest name in car seat makers, but there is also Johnson Controls and more that I don't know about.

Earlier this year, I reupholstered the seats in a 1985 Toyota Supra. I thought I had worked on this model of seats before, but once I got into the project, I realized that these were very unique.

Automotive seat design is a field as mysterious to many auto upholsterers as it is to the ordinary person. We see them all the time, but information about the actual process is hard to come by. It's an area of automotive design that I have always wanted to dig into.

Sport seats seem to have evolved from racing seats. These are the kinds of seats that are designed to hold a driver in place as he drives 200 miles per hour, making turns as fast as possible with lots of g-force. Designers took the high side bolster designs and added padding with more comfortable and better-looking materials, and put them in passenger cars. Recaro is one of the most recognizable names in after-market sport seats - having developed an early relationship with Porsche.

Toyota's 1985 Supra seats combined the high body-hugging bolsters with adjustable lumbar and back supports, which were just beginning to become popular in seats.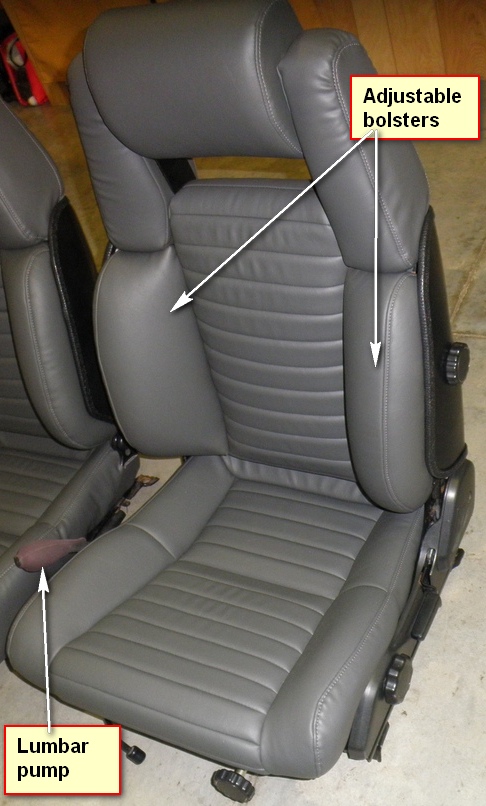 A look at the inner workings of the Supra backrest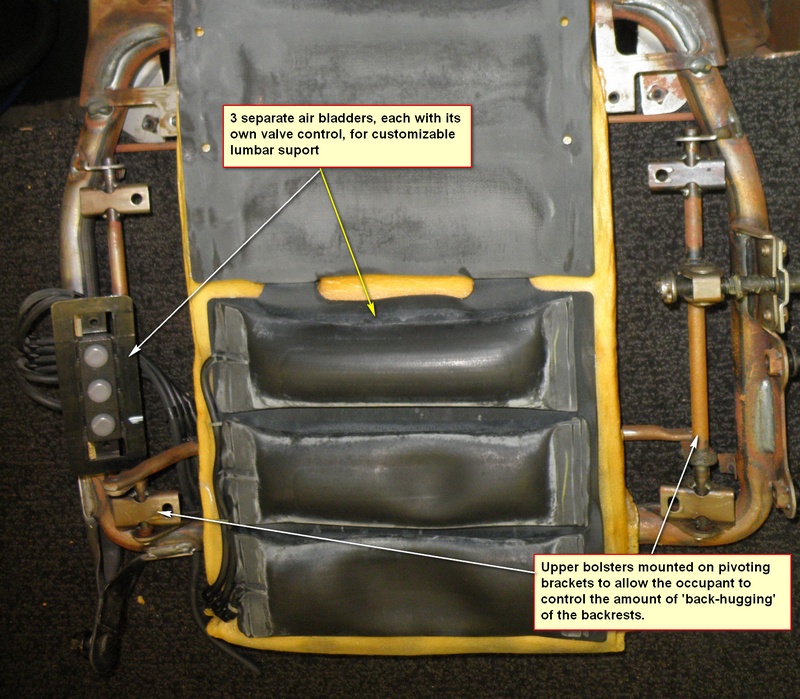 What interests me the most when I think about these seats is that this is 1985! Very early, innovative seat design. the Supra was one of Toyota's first ventures into a sports car, and it's nice to see them putting so much thought into the seats as well. Another amazing fact is that these seats are entirely mechanical - controlled only by pumps, hinges and worm gears.

More to come . . .






December 14, 2014
Repairing vs Replacing Seat Upholstery
What little news one hears about this trade (auto upholstery) tends to be about custom upholstery. Unlike the exciting and innovative work done by custom car designers Ed Roth in the 1950s or today's big names like Sid Chavers and Chip Foose, there is a much more common (aka boring) area of auto upholstery that keeps the industry humming in little and big shops all over the country. It is the repair and restoration of worn out seats, sagging headliners, and damaged carpet. We auto upholsterers often refer to this as 'repair' work.
While we at Adams Auto Upholstery have worked on thousands of interiors covering everything from the cheapest budget cars to the finest luxury and sport cars, our focus is on the everyday repair work that the average person needs. To understand a little more about this kind of work, I've put together an illustrated explanation.
The Concept:
Worn out seats can never look and feel like new seats, but we can often perform repairs on only the damaged areas of a seat. Wear and tear happens more on certain areas -- the outside edge of the bottom part of the driver's seat gets the heaviest use and is therefore the soonest to break down. Repairing this section is the most common type of seat repair.
Seats can suffer various degrees of wear. We see seats so worn out that we can look through the seat and see the floor below.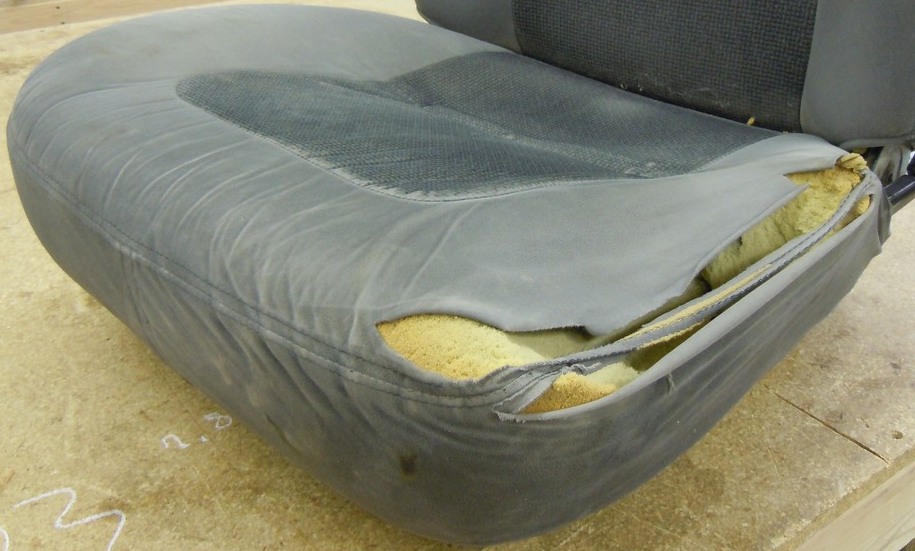 The longer you wait to repair the seat, the more difficult and more expensive it is to repair.
Inspection:
| | | |
| --- | --- | --- |
| | | |
| Seat Cover - a worn out cover is what everyone sees from the outside and what prompts a visit to an upholstery shop. | Cushioning - Not as easy to see as a worn cover but very easy to feel is the cushioning. A good seat requires a good cushion. | Springs/frame - More difficult to see and feel is the base support system. Broken springs/frame causes poor feel and faster deterioration. |
Foam repair
:
| | | |
| --- | --- | --- |
| | | |
| Repairing foam involves cutting out the worn section. | We then splice in new foam and shape it. | We'll often add a layer of foam for extra support and to even out the overall surface of the seat. |
Cutting, sewing fabric and replacing springs:
| | | |
| --- | --- | --- |
| | | |
| We 'fix' the cover by cutting out new fabric for the damaged sections. In this case, we'll replace all the cloth, and the outside vinyl panel where the driver gets in and out. | We'll repair the frame/spring assembly by installing a new wire mesh to replace the broken one | Finally, we put the cushion back on and install the cover, and we have a repaired seat that will provide a comfortable seat for this van. |
Again, I must emphasize that this is a
repair
and not a restoration. This approach will not return your seat to it's original condition. Only replacing the entire foam cushion with new material and replacing all the upholstery will do that. However, it is a generally less expensive way to get more life out of an existing seat. For a commercial fleet vehicle or work truck, this may be a practical alternative.
---

May 18, 2015
Side Seat Air Bags
The majority of new cars are equipped with air bags that are designed to deploy instantly in an accident. The number and location of the air bags differ from car to car, but almost all cars have side seat air bags that are just under the seat upholstery in the upper/outer back rest of both driver and passenger front seats. You will see a tag sewn into the seam that says "Air Bag" or "SRS Air Bag."
Air bags have caused a lot of frustration and misinformation among after-market auto upholstery shops. This is because the seam(s) that cover the airbags must be able to burst open as the airbag inflates. The typical industrial walking foot sewing machines and the nylon or polyester threads that auto upholsterers use are not designed to sew these types of seams.
So what is the right machine and thread? Ninety percent of all OEM car seat makers use a special sewing machine (sewing station, really), that is designed specifically for tearable seams over airbags. Thread makers also make a special thread for use in these seams. A sewing system like this costs somewhere in the $50-75,000 range, and is therefore out of the budget of most small shops. Because of this, shops must refuse to resew, custom make, or replicate a seat cover that will go over an airbag.
The only choices available to a consumer are to have us install certain custom seat covers, or to replace the upholstery with Katzkin leather upholstery (or similar), which uses the correct technology. If you find a shop that claims that their seams will pass air bag standards, please ask them for documentation to back it up.